Sponsors
Platinum Sponsor

SCANEX Research and Development Center 
SCANEX Research and Development Center (SCANEX R&D Center) is the leading Russian company on the remote sensing market that offers a complete set of services ranging from acquisition to thematic processing of Earth observation images from space.
Business fields:
Providing images from a majority of up-to-date satellites;
Manufacture and supply of receiving ground stations (UniScanT, Alice-SCT) for data acquisition from different satellites;
Development of image processing software (ScanEx Image ProcessorR);
Web-mapping services.
Gold Sponsors
VisionMap (Israel) 

Bringing together deep insight in geospatial data market challenges, and multidisciplinary expertise in photogrammetry, mapping, electro-optics, and computer vision — VisionMap is a leading provider of digital automatic aerial survey and mapping systems. VisionMap's innovative data acquisition and data processing system optimizes mapping work and creates new opportunities for their business partners.
DigitalGlobe (USA) 

DigitalGlobe is a leading global provider of commercial high-resolution earth imagery products and services. Sourced from their own advanced satellite constellation, their imagery solutions support a wide variety of uses within defense and intelligence, civil agencies, mapping and analysis, environmental monitoring, oil and gas exploration, infrastructure management, Internet portals and navigation technology. With their collection sources and comprehensive ImageLibrary (containing more than two billion square kilometers of earth imagery and imagery products) they offer a range of on- and offline products and services designed to enable customers to easily access and integrate our imagery into their business operations and applications.
Silver Sponsors
Airbus Defence and Space (EU) 

Through its Geo-Intelligence Portfolio, Airbus Defence and Space is recognized as a World leader in geo-information, pooling an unmatched access to Earth observation satellite imagery with unique expertise and decades of experience in one organisation. Based on an exclusive access to Pléiades, SPOT, TerraSAR-X and TanDEM-X (radar and optical satellites), its extensive portfolio spans the entire geo-information value chain.
Airbus Defence and Space provides decision-makers with sustainable solutions to increase security, optimize mission planning and operations, boost performance, improve management of natural resources and, last but not least, protect our environment.
Smarter decision-making through premium satellite imagery, products and services.
National Company "Kazakhstan Gharysh Sapary" (Kazakhstan)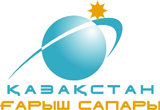 The company is established for the purpose of realization of the Governmental program Development of space activity in the Republic of Kazakhstan for 2005-2007 ratified by the Decree of the President of the Republic of Kazakhstan.
The basic directions of the Company's activity under the Decree are:
- participation in elaboration and realization of current, long-term interindustrial programs in the field of space activity of the Republic of Kazakhstan;
- implementation of space technologies directed onto solving social and economic problems of the Republic of Kazakhstan;
- carrying out development activities in creation of space systems and complexes.
About | Organizers | Sponsors | Media Partners | Comments | History