Organizer
Racurs (Russia, Moscow)

Since its foundation in 1993, the Racurs Company has been developing innovative digital mapping software for the processing of aerial, space and terrestrial imagery. Our flagship product PHOTOMOD was one of the first digital photogrammetric systems on the market designed to work on off-the-shelf PCs. PHOTOMOD is extensively used worldwide and is presently the most popular digital photogrammetric system in Russia. Initially a single-product company, Racurs' market involvement has expanded to include software development, provision of remote-sensing data and production of photogrammetric services.
Partner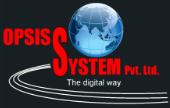 OPSIS SYSTEM (India, Kolkata)
OPSIS SYSTEM was conceived and set up in 2001 in the pristine natural environment by the river Ganges in the district of Hooghly, West Bengal as a training institute on Information Technology and Geospatial studies. Keeping with the meaning of OPSIS which means "viewing" the earth in a digital way, the organisation soon diversified in the field of Geographical Information System and Image Processing with strategic agreement with a couple of multinational companies to cater to the software requirements of the organisations coupled with focussed after sales support services.
---
About | Organizers | Sponsors | Media Partners | Comments | Statistics | History