Conference review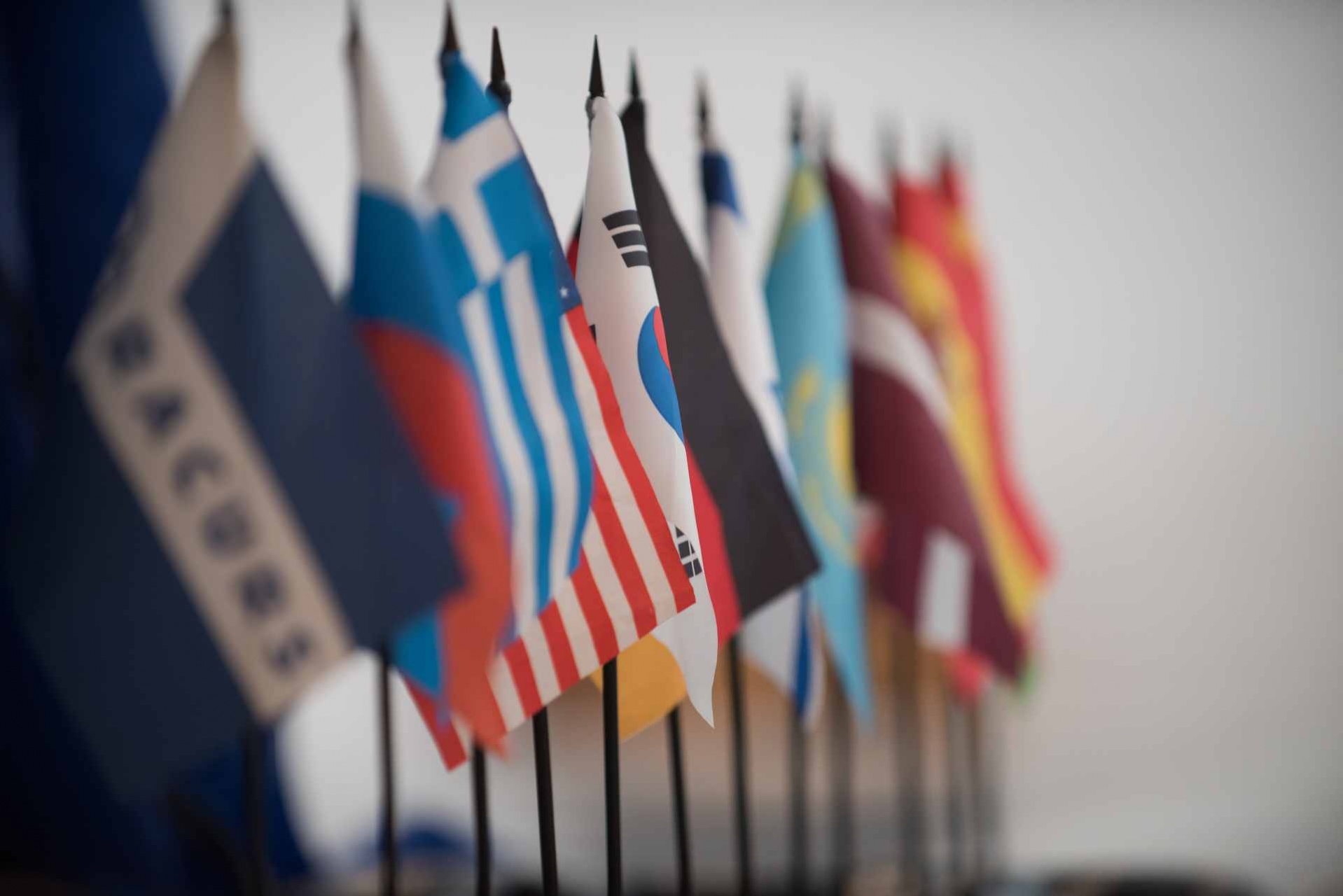 The 18th International Scientific and Technical Conference organized by Racurs also marked the 25th years of the company´s existence. The conference covered new trends and technologies in photogrammetry, complemented with masterclasses and roundtable discussions.
The conference committee chose the mythological isle of Crete, Greece to host this year's event. Apart from three days of presentations from an international group of presenters, the participants could enjoy a social program consisting of cultural excursions, a sports competition and a welcome party held in the port city of Agios Nikolaos. The event took place from September 24-27.
The following companies supported this year's conference as sponsors:
· DigitalGlobe (USA)
· SI Imaging Services (Korea)
· TerraLink (Canada)

Scientific support was provided by:
· ISPRS - International Society for Photogrammetry and Remote Sensing
· ROSCOSMOS
· Russian GIS-Association
· The Russian Society of Geodesy, Cartography and Land Management

Conference partners:
· National Technical University of Athens
· Hellenic Association of Rural and Surveying Engineers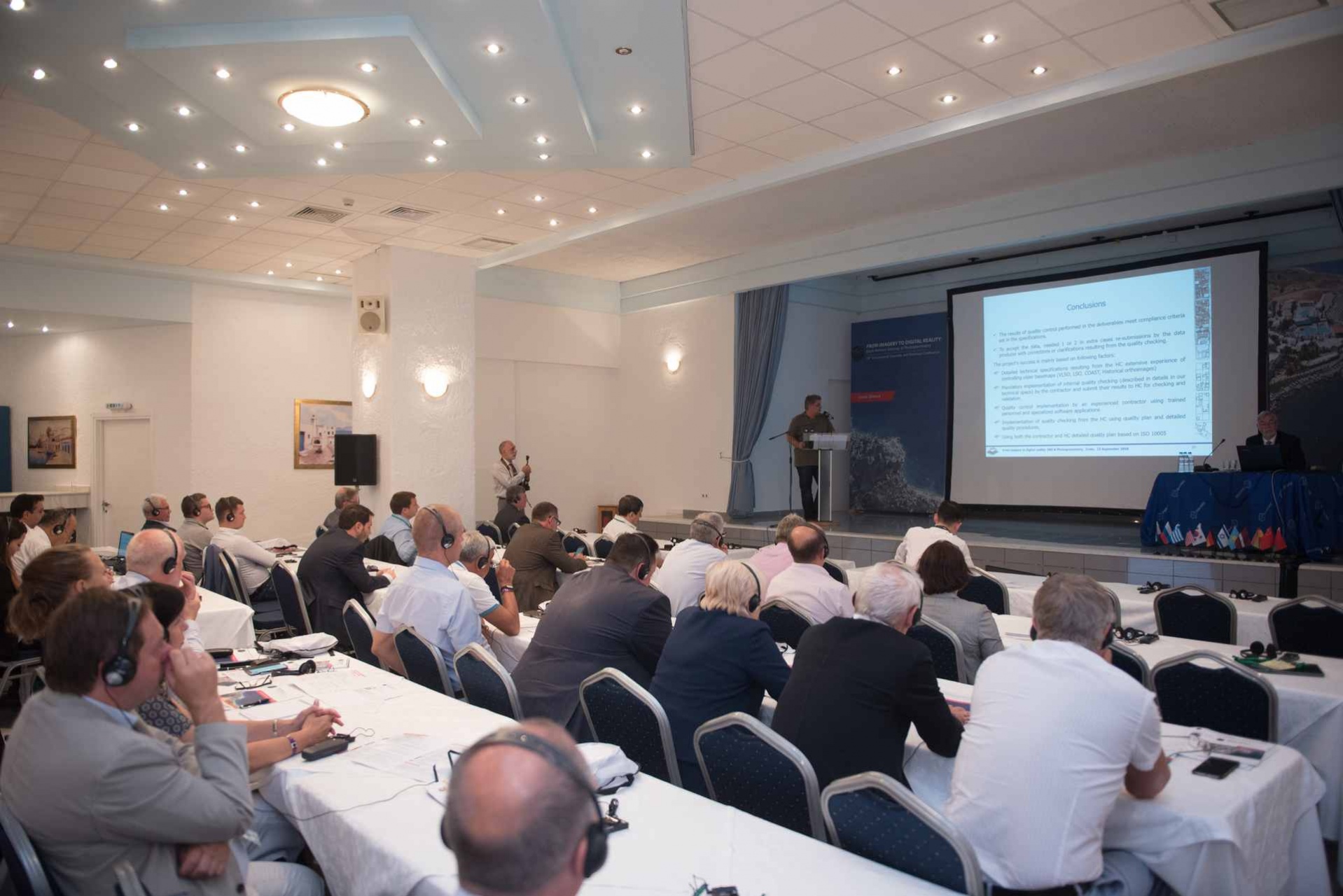 Photogrammetric production solutions
After the opening speech and several welcome speeches from the different conference organizers, the first round of presentations covered photogrammetric projects and workflows in Russia and Greece. For example, the Russian geodesy and cartographic company Roscartography discussed how aerial imagery helps them to map their territory. This mapping data is used for digital and paper maps, such as the publication of a new Arctic Atlas.
The Hellenic Cadaster discussed the challenges of aerial image capture of many small islands that Greece comprises. One challenge was data capture in border areas, which is solved by using satellite data instead of using aerial imagery. The head of the Internal Data Quality Unit shared the workflows for quality-checking all their ortho imagery. Both Roscartography and the Hellenic Cadaster discussed the issue of open data portals, which in the case of Roscartography was an explicit request from the client.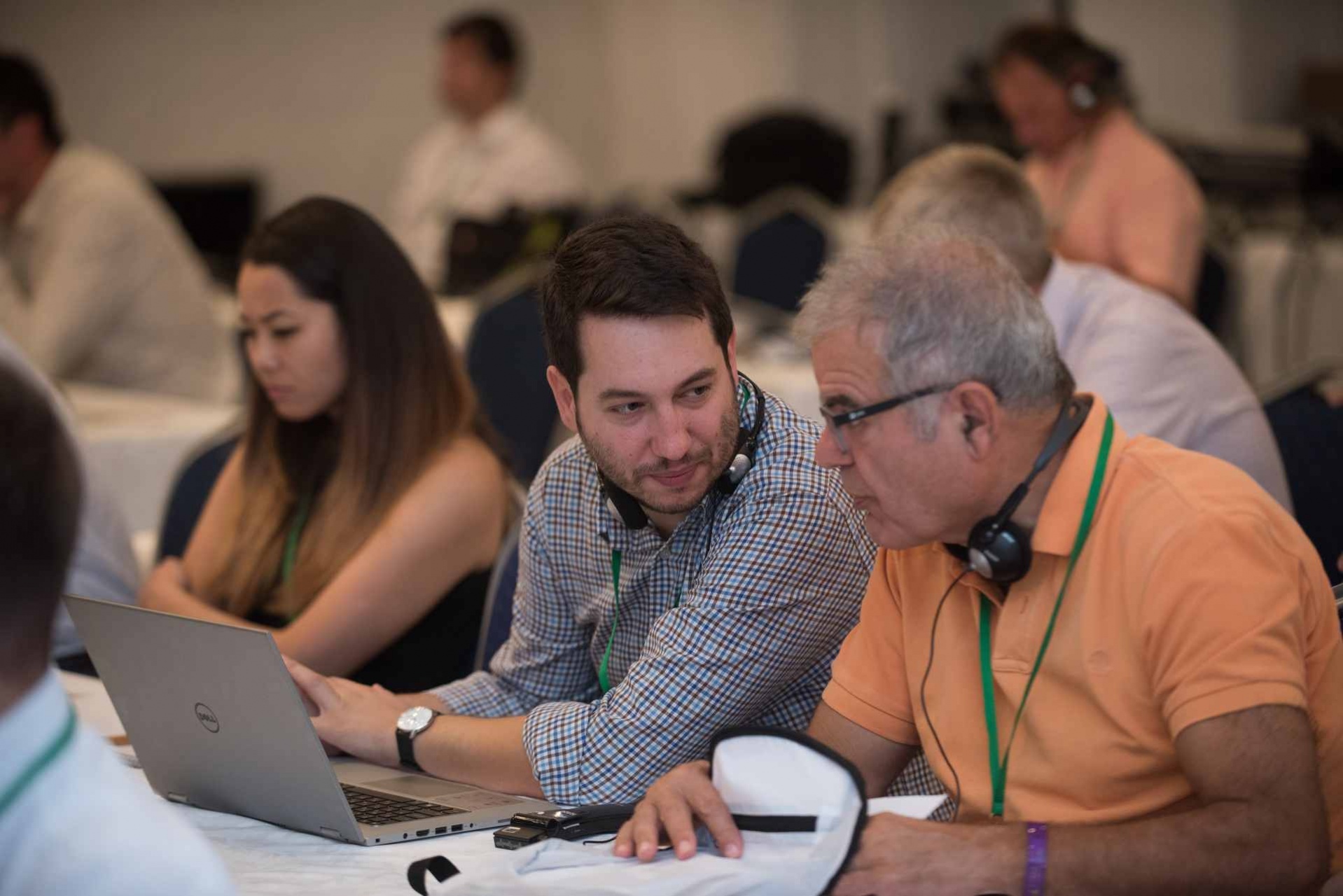 Product presentations
The second block of presentations mixed product presentations with photogrammetric projects. Yuri Raizman discussed the implementation and first experiences with GeoCloud, a SaaS offering that offers a range of software solutions (both open and closed source) where users pay for what they use based on the time they work with an application. Not only can they save on licensing costs using this cloud solutions, but also combine different software offerings that are necessary for a single workflow.
The German company Schneider Digital presented the 3D PluraView, a stereo photogrammetry monitor for working with 3D stereo applications. This monitor was developed in 2015 and is based on the folded PLANAR Beamsplitter-Series that were available first in 2005. The 3D PluraView consists of two separate screens: one vertical screen, a beam splitter and a horizontal screen. The user needs a pair special glasses to be able to see the stereo 3D effect.
The system is used in many different markets, such as archeology, biochemistry and mechanical design. With the high-resolution capabilities from the system's displays, new benefits are obtained, for example in the laser scanning and BIM market. Apart from that, PluraView is also used for displaying 3D city models.
The next day featured two additional product presentations from DigitalGlobe. The first one was about the Earthwatch subscription service, that offers a global library of image mosaics with 30cm resolution. In addition, DigitalGlobe developed five real-world applications for Earthwatch users, such as real estate and energy companies. These applications are targeted at different verticals and offer additional services tailored to their needs, such as feature identification.
The second DigitalGlobe presentation was a premiere: it was the first time the company showed its new HD technology on any event. The technology allows satellite image to be displayed at an even higher resolution, offering more information and details to its users, using more pixels. However, the precision of the imagery is no different than other satellite imagery from the company.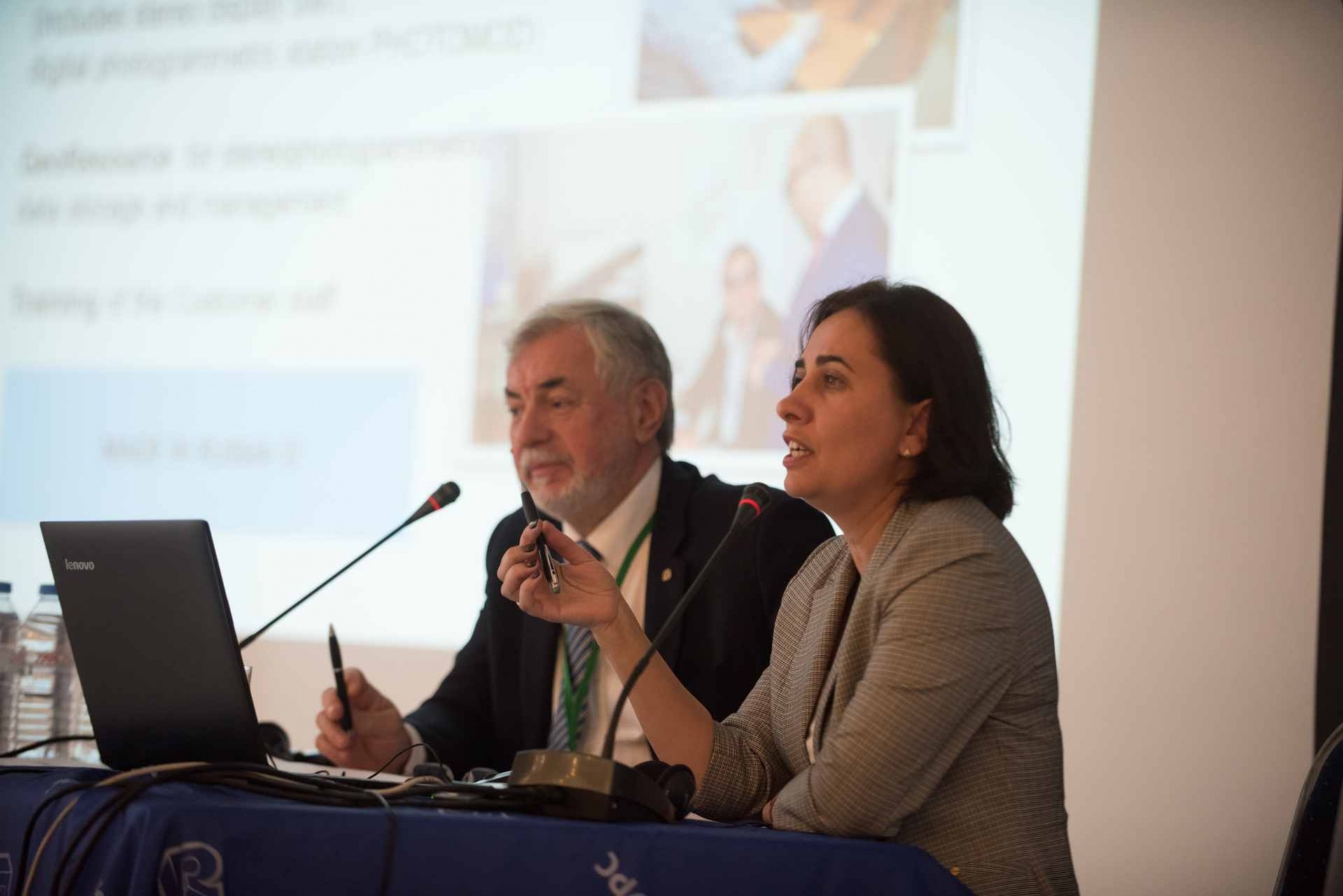 PHOTOMOD: moving into the cloud and beyond
Drones have become popular aerial imagery capture devices in a short time. This conference featured two drone presentations. The first one was delivered by photogrammetry specialist Yannis Yanniris, who has ample experience with drone-based imagery capture. He discussed how a smart configuration of the PHOTOMOD UAV module and the use of GNSS-based ground control points can help to achieve a high aerotriangulation accuracy, while using a common drone. Next, researcher Alexey Smirnov showed that cheap consumer-based drones produce at best unreliable results for aerial image projects, which shows that they cannot compete with higher-priced professional mapping systems.
Racurs' Scientific Director Andrey Sechin delivered a presentation on Racurs' experiences with cloud technology. The company has been experimenting with cloud technology in order to optimize large volumes of data processing and data storage. As data storage in the cloud becomes cheaper, cloud environments form a great alternative for new products with large data volumes, for example 3D point clouds. The PHOTOMOD system can be used to sequence data and algorithms and process large data volumes at a distance. To return the data back to the user, a thin stereo client will be developed in the course of next year.
The final presentations from the first conference day centered around Racurs and its PHOTOMOD system. Racurs' managing director Victor Adrov talked about the history of both his company and its flagship product. Racurs was originally founded by a group of researchers from the Russian Academy of Sciences in 1993, together with the launch of its photogrammetric system PHOTOMOD. This system is now used by specialists in more than 80 countries around the world in a total of 900 different organizations and 10,000 workspaces.
Adrov noticed that during its 25 years of existence, the company gradually has become more international, as result of selling more licenses abroad and a growing network of dealers. This required multi-language versions of the software, that is now available in five different languages. In terms of data, the photogrammetry market introduced more image data formats, while files have become larger and larger over the years.
The current version of the system can be used to generate DEMs, TINs, contours lines, vectors, seamless orthomosaic, digital maps, dDSM, true orthos and 3D-models. These output data files can in turn be used as inputs for different GIS products. PHOTOMOD consists now of a set of ten different modules, in addition to a main operating shell. Each module performs specific operations during a certain stage of processing and users are free to install only the modules they need. The current version is 6.3, but features of the 6.4 version were demoed by Racurs' Dmitry Kochergin at the final presentation of the day, such as creating 3D models from satellite stereopairs and support for various new sensors.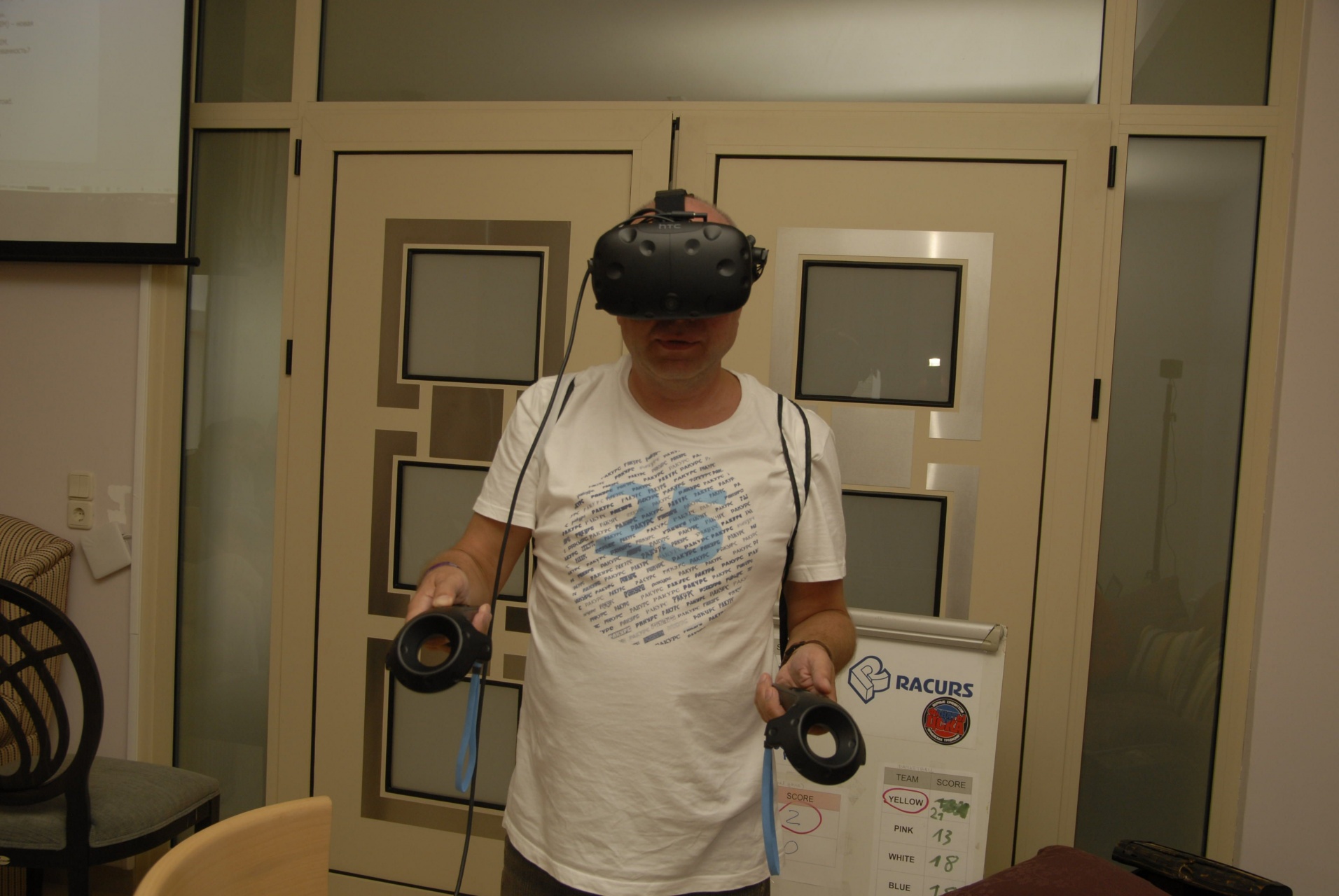 Masterclasses and roundtables
The morning program of the second conference day had a strong focus on satellite imagery and services, with presentations that covered small satellite systems, satellite data quality analysis and image processing. Most of the presentations were delivered by Russian organizations and discussed how they satellite data is used for image processing in applications such as monitoring of agricultural resources, object detection on remote sensing imagery of the sea surface and geological projects.
The third and last conference day comprised of a PHOTOMOD master class and two roundtable discussions. The first roundtable was about cloud computing, expanding on the earlier presentation from GeoCloud. The second roundtable covered a topic that was not discussed during any presentation, namely combining photogrammetry and virtual reality/augmented reality.
Different industry verticals are already taking advantage of AR and VR technology, and Racurs already experimented with the technology earlier this year for a project that uses 3D city models. The combination between photogrammetry and VR/AR may seem unlikely at first, however, it is a necessary one: AR/VR can benefit from metrics and accuracy that photogrammetric deliverables brings to the table, because without metrics, a 3D model is just an un-projected space where no distances can be measured.
In terms of hardware, it is not yet clear how VR/AR will change existing photogrammetric workflows. At this point in time, visually demanding work done using stereo monitor might be a better option than putting on heavy VR glasses for multiple hours. It is expected that experimentation in academics will shed more light on this matter soon.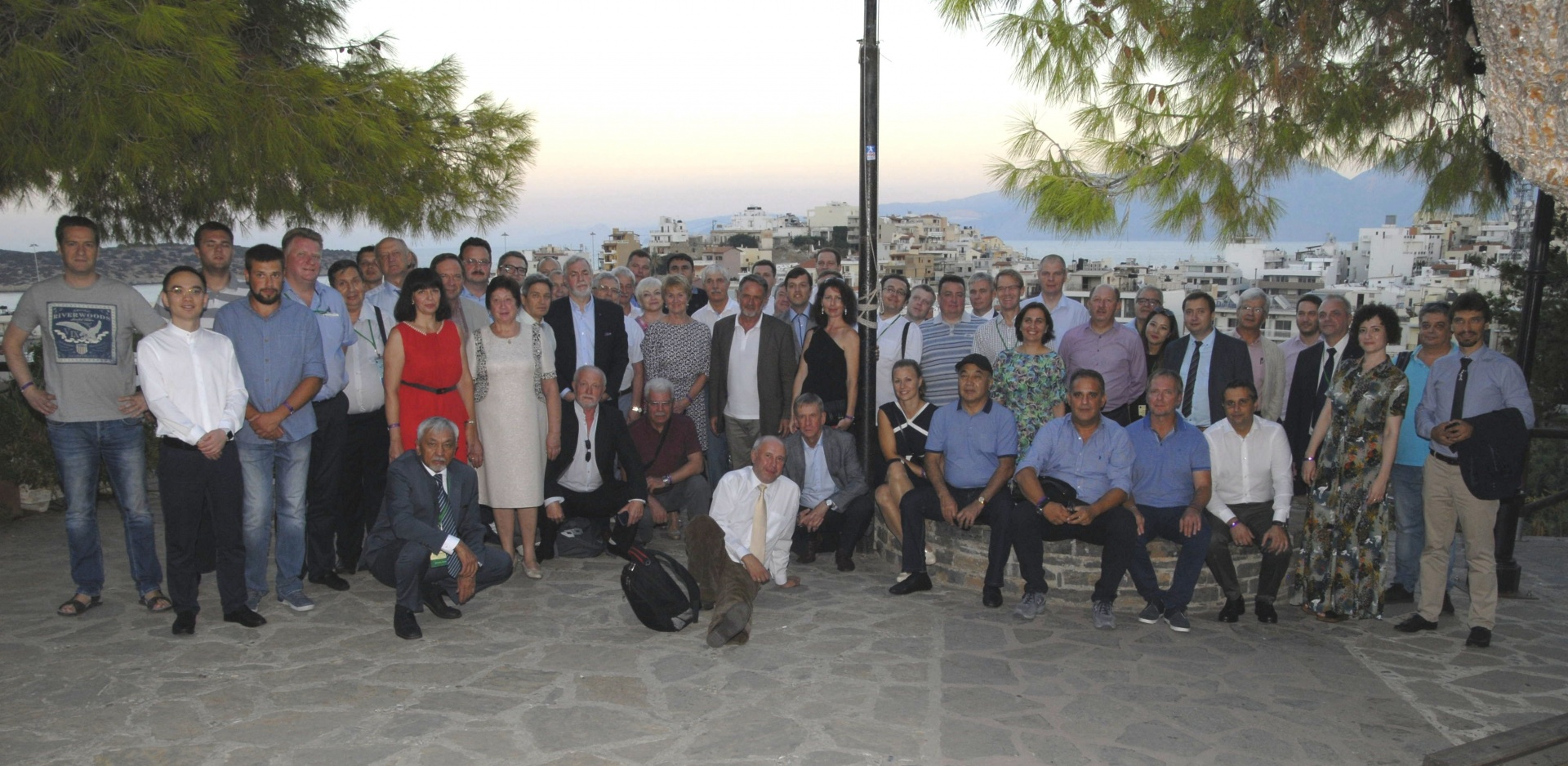 ---
Presentations | Papers | Video | Photo