Conference news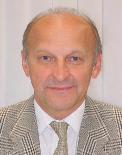 17.06.2016
Prof. Dr. Armin Gruen will present the Moorea Island Digital Ecosystem Avatar project at the 16th International Scientific and Technical Conference "From imagery to map: digital photogrammetric technologies"
---
Prof. Dr. Armin Gruen will present the Moorea Island Digital Ecosystem Avatar project at the 16th International Scientific and Technical Conference "From imagery to map: digital photogrammetric technologies"
Professor Armin Gruen is the leading specialist in the field of photogrammetry and 3D modeling, awarded by the ISPRS Brock Gold Medal in 2008.
The Moorea Island Digital Ecosystem Avatar (IDEA) project has been initiated in 2013 by a group of international researchers to build a virtual representation of Moorea Island. The main aim of the project is to model an entire ecosystem, observe the changes through it and be able to predict future changes reliably.
Download full abstract (pdf)
See the most impressive reports which were presented by Armin Gruen at previous conferences.